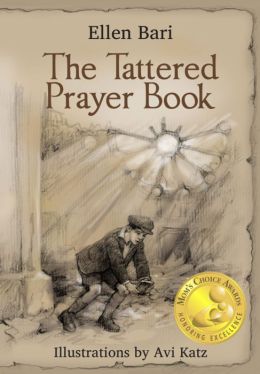 One Sunday, when Ruthie is visiting her grandparents, she discovers a box labeled GERMANY.  After looking with her grandmother at pictures of a beautiful house, the little girl finds a damaged book.  When she asks her Grandma about it, Ruthie learns that it is a siddur (a prayerbook), and it is her father's.
This discovery prompts Ruthie to ask her father to share the story of the siddur.  "Years ago my family lived in Hamburg," he begins.  "We had a large house and many family parties.  I loved being surrounded by all my cousins.  Our family had many friends, both Jews and non-Jews."  But this happy existence was not to last for, as the Nazis came into power, Jewish businesses lost customers, and Jews could no longer go to the library or to school.  After the horrible events of November, 1938 (which came to be known as Kristallnacht), the distraught boy found a torn and partially burned siddur in the ruins of his synagogue.  The prayerbook gave him solace as things went from bad to worse and members of his extended family painfully parted.  "Some were going to Argentina, and others to Israel…As the ship pulled away from the dock, I felt like it was floating on a sea of tears."  When the boy showed his mother the siddur on the ship after she lit the Sabbath candles, she told him, "This will remind you of the good life we had.  Remembering our past gives us the strength to face the future." 
And on another Shabbat night, Ruthie's father expresses his gratitude for his daughter's question–and Ruthie responds that she is grateful for the answer.
Ellen Bari's eloquent story relates the horrors of the Holocaust in a manner that brings the nightmare years to life, yet does not present the events in a way that is too graphic for young children.  Youngsters will relate to Ruthie's desire to know more about her family's history and to her father's wish to put the past behind him.  Avi Katz's expressive illustrations perfectly fit the mood of the tale.  The cream-colored, bordered pages with delicate shading give the book an old-fashioned feel.  An added bonus: lamination will ensure that Ruthie's family story will last through many a reading and sharing.  Ages 6-10  
Published by Gihon River Press in 2013
Read more reviews and buy The Tattered Prayer Book on Amazon: The Tattered Prayer Book (Mom's Choice Awards Recipent)