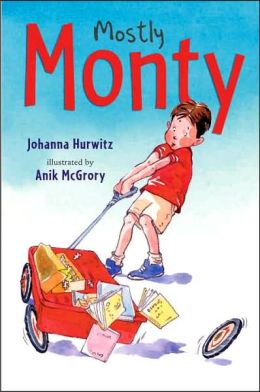 Monty is beginning first grade.  While this is an exciting time for many kids, this isn't the case for the six-year-old.  The reason?  Monty doesn't have what many other children do: a pet, siblings, or a friend.  However, he does have something he wishes he didn't: asthma. "Because of his asthma, he wasn't allowed to go running around like other kids.  He couldn't join the Little League team.  He couldn't plan to go to sleepaway camp when he got older.  Who would want to be friends with a boy like him?"   So, Monty is one very unhappy little boy.
However, there are some other special qualities Monty does have: an incredible reading ability and knack for finding things.  As he makes his way through the world of first grade, he discovers that he has what it takes to be a success–and a good friend.
Johanna Hurwitz' sensitive and quietly humorous beginning chapter book will resonate with many kids, especially those uncertain about making friends, fitting in, and succeeding.  (That includes most of us.)  Chapters are broken up by well-spaced breaks.  Anik McGrory's expressive water-color pictures adeptly illustrate the life of the first-grader.  Especially poignant are two scenes: Monty sitting inside while, outside the window, other kids are running and playing, and the little boy using his inhaler, surrounded by inquisitive classmates. Whether or not a child lives with a disability, he or she will find a kindred spirit in Monty.  Readers can experience more of the world through Monty's eyes: Mighty Monty and Magical Monty continue the adventure of discovery of one very special little boy.  96 pages.  Ages 6-9.
Published by Candlewick Press in 2007
Read more reviews and buy Mostly Monty and its sequels on Amazon: Mostly Monty: First Grader

Mighty Monty: More First-Grade Adventures

Magical Monty