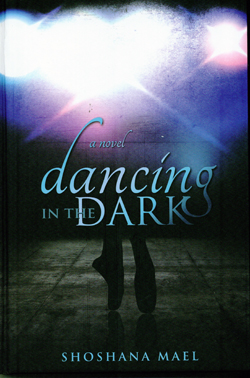 Daniella and Rikki Coleman are sisters and best friends, and they have a secret. Hardly anyone outside their family knows about the skeleton in their closet, and the teens want to keep it that way. For their mother, Aviva Coleman, is bipolar, with its attendant extreme mood swings, and is often delusional. Rikki and especially Daniella are so keen on hiding this reality that friends rarely come to their home. The girls are so successful that the only other people who are privy to the embarrassing secret are the Kaddens and their daughter Kayla (Rikki's closest friend), who have witnessed their mother's erratic behavior.  Daniella, seventeen months older, has no problem with lying to friends, family, teachers, and anyone else. The night Aviva Coleman is admitted to the hospital, both girls are relieved.
But other things are happening in their lives. Rikki, a good student with a penchant for having fun, is a dance head for this year's school production. She throws herself into this delightful role: when she's dancing, the tense reality of her life fades away. Unfortunately, Daniella does not share her younger sister's intellectual and social abilities. She's often in the principal's office for one infraction or another. Yet, the strain of coping with their family situation and shielding their beloved little brother Uri takes a toll on both siblings. When it becomes apparent to the faculty, especially Rikki's teacher Mrs. Zilber, that something is amiss, things come to a head. Rikki finds herself seeing guidance counselor Mrs. Moskowitz, and she begins to envision a sliver of light at the end of the tunnel. She knows Daniella also needs help, but it isn't until the Coleman secret is revealed at school that teachers and principal start the ball rolling. As unfortunate truths come to light, the girls embark on a painful journey and make discoveries about themselves, their parents, and their world.
First-time author Shoshana Mael's hard-hitting novel not only brings home the realities of living with a mentally ill family member, it sheds light on what it is like to suffer from the disorders that make up the condition. Her goal, based on her social worker experience with distressed teens, of creating a story that packs a strong emotional punch has been realized. Surprise revelations and nonstop action make this a can't-put-it-down novel.  Rikki's voice rings true. All the people in her world are believable, from dancer Ayelet with a secret of her own to Mrs. Baumgarten who steps in to guide the sisters. Readers discover, along with the Daniella and Rikki, that even if there is not a rosy solution to every difficulty, life is good. We can expect more great things to come out of this remarkable author's pen.
Published by Menucha Publishers, Inc., in 2013
Read more reviews and buy Dancing in the Dark on Amazon: Dancing in the Dark